FEATURES
10 of the Best Heathland Courses in England
This article first appeared on Golfshake.com in Nov 2015.
There is something special about heathland courses; the best of them feature plenty of gorse and heather, wonderful turf and terrific greens. There are some superb examples in England and here we take a look at 10 of them. When you have played these courses, you may never want to play anywhere else ever again.
Sunningdale Golf Club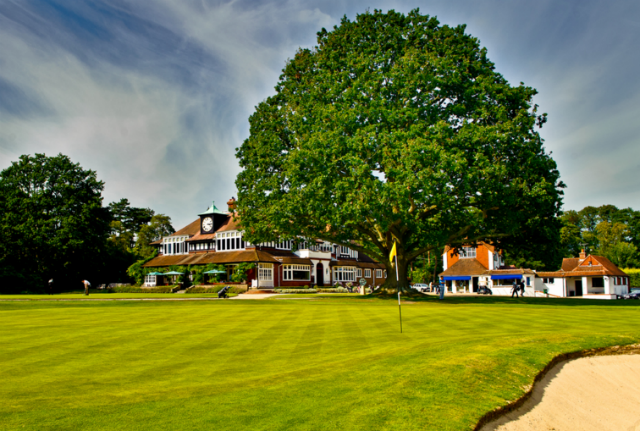 The Old Course at Sunningdale is the Mona Lisa of heathland golf courses: it is a work of art. You will be open-mouthed at the beauty of the place if you have never played here before. The greens are among the best you will ever find. Always in fantastic condition, they feature lots of borrows and slopes and many wonderfully-crafted bunkers. The heather gives the course a glorious purple hue. It has held many, many top tournaments and is a favorite among the world's best players. One glance at the place and you will know why. The clubhouse is breathtaking.
Summer Season Green Fee: $400
Woodhall Spa
The home of England Golf , Woodhall Spa has two courses: the Hotchkin and the Bracken. They are both excellent examples of heathland golf at its best, but the Hotchkin is something special and features high on every 'best of' list. It is set among glorious woodland and is famous for its bunkers – some of which you may go into and never be seen again. You are going to have to accept that somewhere along the line you are going to end up in the sand, so make sure you know how to get out. Keeping the ball in play is essential – trees, gorse and heather lie in wait. Get in the heather and you will be happy just to get the ball back in play. Do not miss the greens on the wrong side.
Summer Season Green Fee: $160
Walton Heath GC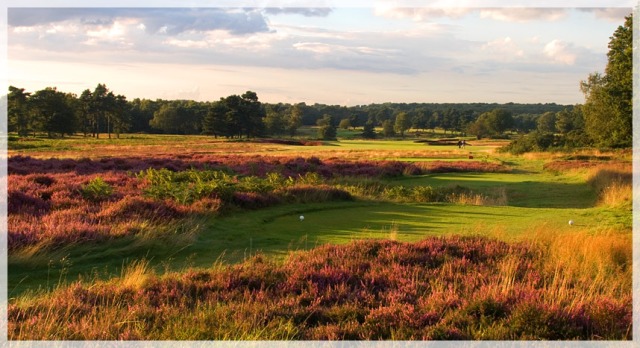 There are two courses at Walton Heath, the most famous of which is the Old Course, which is 7,420 yards long from the tips. It hosted the Ryder Cup in 1981, and the European Open has also been played here; it is a stunning heathland layout. James Braid, the five-time Open champion,  was club professional until 1950 – and it is little wonder that he didn't want to move anywhere else. It is not far from the center of London, but you would never know it as the course is so tranquil. Most of the bunkers are surrounded by heather – it may look pretty but if it swallows up your golf ball then the strength of your wrists is going to be tested to the full. The fairways consistently provide tight lies – hit the ball correctly and it will stop quickly enough on the magnificent greens.
Summer Season Green Fee: $240
Aldeburgh GC
Aldeburgh is the best golf course in Suffolk – bar none. It is 'only' a par-68 but it is a really stern test, and anybody who is a member here will stroll round any other course they play comfortably below their handicap. It has a wonderful old clubhouse with wood panels and leather seats and an artisan membership who have their own separate facilities. Fourballs are discouraged in an effort to speed up play. The fairways are tight and well-bunkered and most of the par 4s require tee shots to be struck with pinpoint accuracy in order to provide the right lines to the greens. The four par 3s are glorious and there isn't a single 'gimme' hole on this wonderful course.
Summer Season Green Fee: $200
Worksop GC
Located not far from Nottingham, Worksop produced two fine English golfers: Lee Westwood and Mark Foster. It is a first-class heathland course. The 3rd is a long, well-protected par-3. The 9th is a glorious dogleg par-5 – put your drive in the right place and there is a chance of getting home in two. It is followed by another testing par-5. There is gorse aplenty and a lot of trees.  There is also plenty of sand and 18 superb greens that run fast and true all year long.
Summer Season Green Fee: $73
Worplesdon GC
This Woking layout is surrounded by towering pine trees which frame many of the holes. There is also a natural lake, together with the requisite mix of gorse, heather and 'proper' rough. It is a reasonably well-kept secret, so our advice is to get there before that changes. Like Aldeburgh, Worplesdon includes several classic short holes, including the 140-yard 10th, which is played over a lake to a three-tier green, and the 175-yard 13th, which could prove unlucky if you find one of the bunkers protecting the green. The signature hole is the 527-yard 11th, which is played through pine trees. You will love this place.
Summer Season Green Fee: $200
Fulford GC
The course measures 6,800 yards and was designed by Alistair McKenzie. It has staged European Tour events and is probably best remembered as the course where Bernhard Langer ascended the giant ash tree at the 17th when his approach shot got stuck in the branches – he then calmly pitched the ball onto the green. So you get the picture – there are many trees at Fulford, and lots of them come into play. As with most good heathland courses, accuracy with the big stick is important, but the short stick is the key to scoring well on Fulford's magnificent greens.
Summer Season Green Fee: $160
Lindrick GC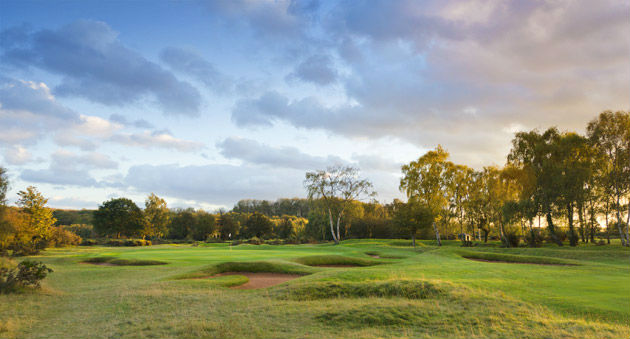 Lindrick hosted the Ryder Cup and several major professional tournaments in the pre-European Tour days. It still plays host to many top amateur events but it has been a while since it has been in the limelight. Located not far from Worksop, you could do an awful lot worse than play both courses.  Great Britain and Ireland beat the United States to win the Ryder Cup in 1957 – it would be 1985 before the United States would lose again. The course features plenty of towering birch trees, gorse, heather and tight, well-protected fairways. And, like all the other courses on our list, the greens are wonderful.
Summer Season Green Fee: $126
Crowborough Beacon GC
Crowborough is located at the highest point in Sussex and affords wonderful views of the surrounding countryside. It is a cliche, we know, but this is another relatively undiscovered gem. Crowborough measures just 6,319 yards from the back tees and the longest hole is only 507 yards, but don't think you will turn up here and tear the course to shreds. The fairways are narrow, so you might be advised to leave your driver in the boot of your car because if you miss the short stuff you are going to run up some big numbers. It is also great value for money.
Summer Season Green Fee: $93
Ferndown GC
Ferndown, in Dorset, was where Peter Alliss learnt to play the game – his legendary father, Percy, was the professional here for many years. The course meanders through pine trees and if you play here at the right time of year then you will want to spend some time gazing at the magnificent rhododendrons. It runs to 6,500 yards from the back tees, which is relatively short by today's standards, but many of the bunkers are steep and deep and the sloping greens have their own form of defense. On a warm summer's day, Ferndown offers a little taste of paradise.
Summer Season Green Fee: $146