FEATURES
The 10 Most Scenic Golf Courses in the World
This article first appeared on Golfshake.com in Sep 2016.
What makes a golf course memorable? Some would say great greens and lush fairways, but most would reply with outstanding scenic views that live long in your memory. Picturesque views are just one factor that makes golf more enjoyable.
Many people have courses such as Augusta National and St Andrews on their bucket list of must play courses, but you really haven't experienced golf if you don't add these 10 beautiful courses to your list.
10. Kauri Cliffs, New Zealand
Image Credit: Flickr @markescapes – The Cavalli Islands viewed from Kauri Cliffs Golf course.
---
I know what you're thinking, how can a course this beautiful only come in at number 10 on the list? Set along the coastal cliffs of Maturi Bay in New Zealand sits this outstanding course, with even better views.
The par-72 championship course was designed by David Harman and offers unbeatable views of the Pacific Ocean on 15 of the 18 holes, six of which are played along the cliffs, which plunge into the sea. You most definitely have to keep your concentration if you are to hit the tight fairways and undulating greens, with the exquisite views only adding to the many distractions.
9. Shangri-La's Le Touessrok Resort & Spa, Mauritius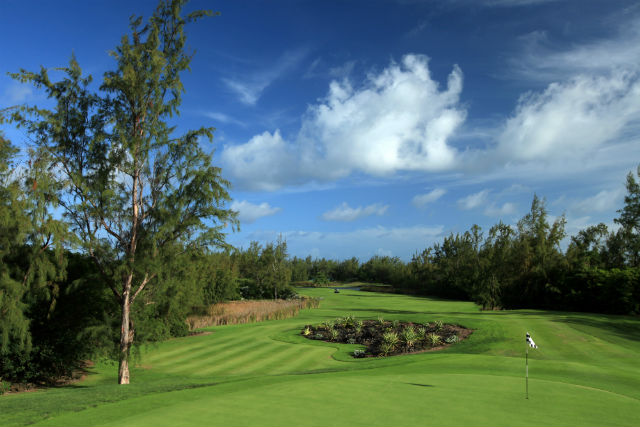 Shangri-La's Le Touessrok Resort & Spa is located on its own island off the east coast of Mauritius and has its own award-winning championship golf course, making it a favorite among golfers worldwide.
The tall trees, white sand and clear blue waters of the Indian Ocean are enough to make you appreciate life on this excellent golf course. One of the best features of this course is that you can relax and unwind after your round on one of Ile aux Cerfs' many beaches.
8. Crans-sur-Sierre, Switzerland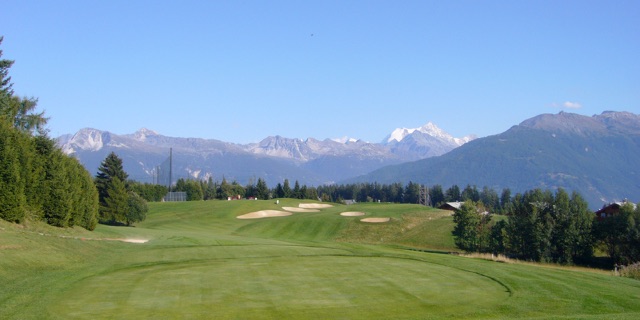 The home of the Omega European Masters offers a lot more than just hosting some of Europe's best players once a year. Crans-sur-Sierre in fact also offers arguably some of the most incredible views of any golf course in the world.
Critics have identified this course as one of the most beautiful in the world and it is no wonder with its views of the Swiss Alps. This course is also open to visitors, with three golf courses to choose from, and generous green fees. Best of all, as the course is located at such a high altitude, your ball flies further.
7. La Quinta, California, USA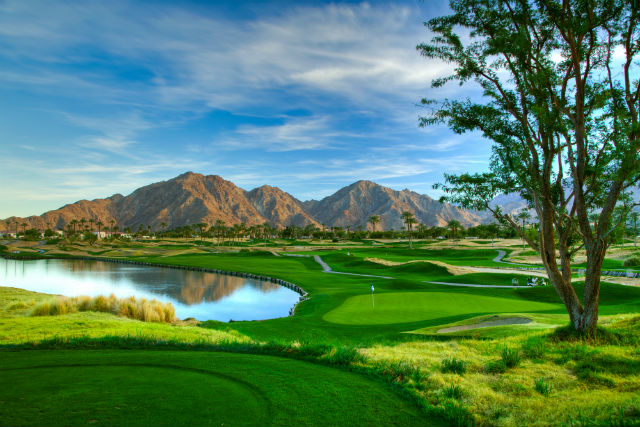 There are five courses at La Quinta and thanks to the beautiful backdrop of the Santa Rosa Mountains near Palm Springs and the many water features on every course, almost every hole you play will have you reaching for your camera.
The courses on offer are the highly ranked TPC Stadium Course at PGA West; Golf Magazine's Top 100 rated La Quinta Resort Mountain Course; one of Palm Spring's best designs in the Jack Nicklaus Tournament Course at PGA West; the Greg Norman Course at PGA West that resembles desert golf from 'Down Under' and the La Quinta Resort Dunes Course that is reminiscent of a traditional rolling links.
6. Four Seasons Resort Lana'i, Hawaii
This golf resort borders a marine preserve perched atop a rugged red-lava cliff above a white sand beach and if that wasn't enough to make you swoon, the incredible golf course offers three cliff-side fairways that will take your breath away. In all honesty, wherever you play in Hawaii there will no doubt be exquisite views but this one really does stand out from the rest.
The Jack Nicklaus signature Manele course is built on lava outcroppings and uses the Pacific Ocean as a water hazard, especially on the three cliff holes. No matter which of the five tees you choose, your driving has to be accurate in order to avoid the gorges and ravines. If you're lucky enough, during the winter months you may be able to spot whales in the Pacific Ocean from the fairways.
5. The Fairmont Jasper Park Lodge Golf Club, Alberta, Canada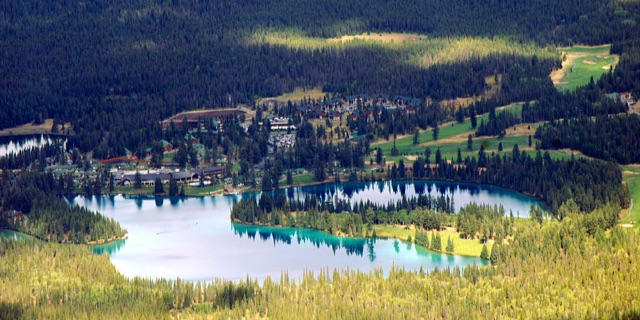 Image Credit: Flickr @10299779@N03
---
Located in the heart of Canada's Jasper National Park is The Fairmont Jasper Park Lodge Golf Club. From each and every hole at this golf course you will have unrivaled views of the majestic Rocky Mountains. If you're extremely lucky, you will possibly be able to spot some wild elk spectating.
It took 50 teams of horses and an additional 200 men working together for a year to clear the land of boulders and debris to prepare for what is now one of Canada's leading golf courses. This course is most definitely a jewel set deep in the heart of the Canadian Rockies.
4. Pebble Beach, California, USA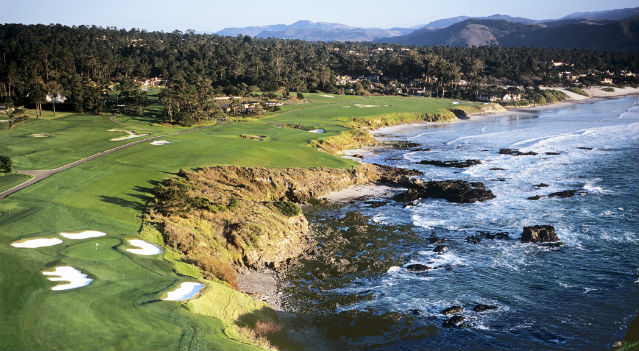 Image credit: Joann Dost
---
Pebble Beach has long been one of the most iconic golf destinations in the world thanks to hosting several PGA events, as well as the third major of the year, the US Open. On top of the history of the place, the course also offers majestic views.
The layout runs along the rugged coastline and has imposing views of Carmel Bay that then open up to the Pacific Ocean, south of the Monterey Peninsula. There are so many reasons why this course should be near the top of your bucket list – with the views being one of the clinching factors.
3. Thracian Cliffs, Bulgaria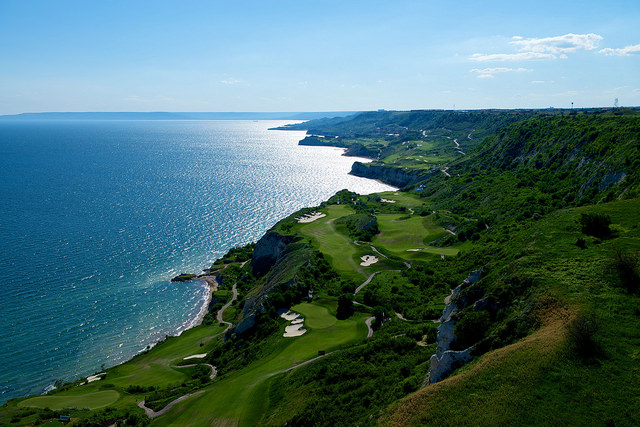 Gary Player said: "You will not find a golf course like this anywhere else on the planet," and he is quite right. This course is arguably one of the most dramatic golf courses in the world.
The course is framed by rugged coastal cliffs and the vast blue of the Black Sea to offer a tough but aesthetically pleasing test of golf. The 18-hole Gary Player Signature Golf Course is the only course at Thracian Cliffs Golf & Beach Resort and covers 85 hectares of truly beautiful Cliffside.
2. The Links at Fancourt, South Africa
Once again a Gary Player design features on our list, this time with The Links at Fancourt; which is excellently sculpted into what Player described as his greatest feat as a course designer. The undulating, windswept terrain and dune-style landscape deservedly was voted number one in the country by Golf Digest South Africa.
The fantastic design and beautiful scenery on offer at this course has seen it host several huge tournaments such as the Presidents Cup (2003), the SA Open (2005) and the Volvo Golf Championships (2012). Limited tee times are available for guests staying at Fancourt Hotel or Manor House, so if you're given the opportunity to stay at either you should make sure you have a round of golf on The Links.
1. Cape Kidnappers, New Zealand
This beautiful golf course stretches along the breathtaking Hawkes Bay coastline and offers possibly the most scenic and awe-inspiring setting of any golf course in the world, hence its spot at number one on our list.
A lot of the holes run along fingers of land with vast drops down to the ocean below waiting to collect any ball hit off line. Despite only opening in 2004, this spectacular course in New Zealand has been hailed as one of the great modern marvels. The course is a true test of golf and thanks to its setting, it is one of the best looking courses in the world.
If you are ever given the opportunity to play any of these courses, you should definitely take it. On top of offering some of the most scenic views from a golf course in the world, all of these courses play well and are presented in outstanding fashion. You will have a truly unforgettable day at all of these golf courses.