TRAVEL
A Guide to Golf at Gleneagles, Scotland
This article first appeared on Golfshake.com in Sep 2016.
Scotland has always been very much a golfing haven with numerous top events, including several Open Championships, being held in this beautiful golfing country. Located in the county of Perthshire is The Gleneagles Hotel and you may well recognize the name as the PGA Centenary course hosted the 2014 Ryder Cup.
The hotel reportedly opened in 1910, although the grand opening was 14 years later in 1924. Donald Matheson was the General Manager of the Caledonian Railway Company and his railway line ran through the valley. He was so impressed with the surrounding countryside that he decided, as it was the era of 'Grand Hotels', that he would build a large country house hotel and provide golf as a form of leisure.
Since then the resort has expanded ten fold and now features some of the finest golf courses Scotland has to offer.
The Golf
There are three 18-hole championship courses to choose from at Gleneagles, as well a nine-hole par 3 course and a pitch and putt course for beginners. The three championship golf courses at Gleneagles combine natural beauty with a truly unforgettable golfing adventure and it is no wonder these courses are regarded as some of the best in the world. Thanks to a program of winter maintenance combined with a bout of dry, sunny weather in May and June, the courses at Gleneagles are in top condition.
PGA Centenary Course
Created by Jack Nicklaus, the PGA Centenary Course was the host venue for the 2014 Ryder Cup and is very much a modern classic. Nicklaus described the course that is set in the heart of Scotland as the finest parcel of land in the world that he has ever been given to work with.
There are five sets of tees for golfers to choose from. Most will not play off the championship tees as it poses too much of a challenge, but the white tees still offer a tough 6,815-yard alternative.
The course begins by making its way southeast towards the glen before sweeping up the Ochil Hills to the summit of the pass below Ben Shee. One key feature of this course is the outstanding panoramic views of the countryside, the rich Perthshire straths, the rugged Grampians, Ben Vorlich and the mountains above the Trossachs. It is almost impossibly not to be distracted by these spectacular views.
This course has been chosen as the host venue for the 2019 Solheim Cup in which Europe's leading female golfers will look to emulate the success of the men in the 2014 Ryder Cup and defeat the USA.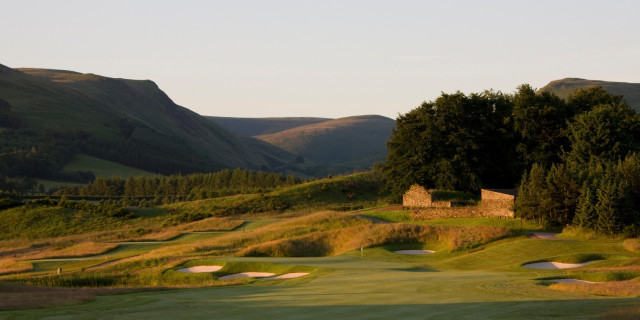 King's Course
The King's Course was unveiled in 1919 and is a masterpiece of golf course design and is one of James Braid's finest masterpieces. It is believed his plan for this course was to test both amateur and professional golfers on their shot-making skills over 18 holes. This design is due to celebrate its 100th birthday in 2019 and is famed for hosting the very first match between British and American professionals in 1921.
The secret to scoring around the Kings course is club selection on each approach shot. A lot of approach shots are to elevated greens, with severe slopes and bunkers waiting to swallow any ball slightly off line. One neat feature of the course is that all of the holes have evocative and pithy Scots names such as the 5th, which is named "Het Gerdie" (Hot Pan) and the "Warslin' Lea" (Wrestling Ground) 17th hole.
The Kings course offers similar spectacular views as the PGA Centenary course and is certainly one of the most beautiful and exhilarating places to play golf in the world.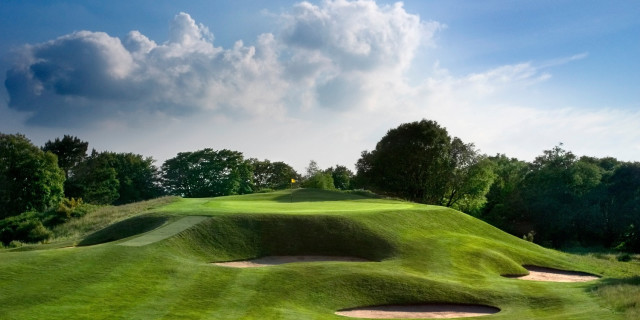 Queen's Course
The Queen's Course has attracted many big names over the years such as Johnny Miller, Greg Norman, Seve Ballesteros, Tom Watson and Lee Trevino to name but a few and it is no wonder they were attracted to this course. The natural beauty of this course is implausible as it winds its way through a woodland setting with lochans and ditches as water hazards – as well as many moorland characteristics.
Despite only measuring 5,965 yards off the white tees, do not mistake this for a simple test of golf. Even some of the best golfers find it hard to make par, especially when the fresh south-westerly breeze blows. This course will most definitely test your accuracy and your short game skills.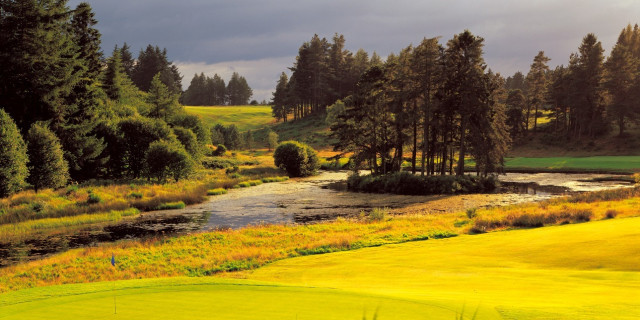 The PGA National Academy Course
The PGA National Academy Course is a nine-hole golf course that offers a great test, and even more enjoyment, for golfers of all levels; it is the perfect golf course to learn to play the game on. The facilities at the PGA National Golf Academy are second to none and it is no wonder it is Scotland's leading venue to accomplish your golfing goals.
The Hotel
The hotel is a magnificent French chateau set amid the gently rolling hills of central Scotland. The hotel was established in 1924 and was soon acclaimed 'the palace in the glens.' To this day the resort continues to attract those in search of rest, relaxation and exhilaration.
Gleneagles hotel has 232 rooms, including 26 luxurious suites. Each room is individual in design and layout, with the amenities and thoughtful touches you would expect from a five red star resort. Whether you chose a traditional or modern approach to interior design, one thing is for sure, you will have a peaceful night's sleep.
Hospitality is one of the key features of your Gleneagles experience and with fours restaurants, you really are spoiled for choice. These restaurants set the highest culinary standards and include Scotland's only two Michelin stars in Andrew Fairlie at Gleneagles. There are also elegant bars and public spaces within the hotel that encourage intimate conversation and quiet contemplation. The golfer's journey has also been enhanced with the launch of a brand new bar, Auchterader 70, in The Dormy Clubhouse. The bar gets its name from the hotel's original telephone number and is an atmospheric, 1920s-style bar, which offers striking views over the 18th hole of The King's and Queen's Courses and an outstanding range of locally-sourced craft beer and snacks.
These changes form part of a wider multi-million pound investment to the hotel and reflect the commitment from their new owner, Ennismore, to enhance the guest experience. Other recent developments include a beautiful redesign of the hotel's main bar, which is now The Century Bar and also saw the refurbishment of around 30 bedrooms and suites.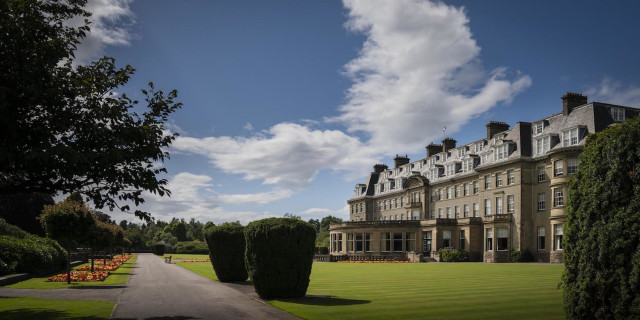 What to do?
There is so much more to Gleneagles than the golf. When you aren't on the golf course and you aren't in one of the outstanding restaurants and bars, there are a whole range of activities you can take advantage of.
There is a Shooting School that is open to everyone whether you're new to the sport or not. This includes clay pigeon shooting, archery and full stalking and shooting breaks with the world-facilities on offer. If shooting isn't your thing, you can take advantage of a unique experience at The Gundog School where you work with their dogs – a very affable group of sleek Labradors – and learn how to get the most of their agility, incorporating obedience and handling.
On top of this, there is also an Equestrian School that is one of the best equipped in the country. The team on hand in the Equestrian Centre will do their utmost to ensure you have a great day regardless of whether you've been on a horse in your life. You can even learn how to play polo and sit your BHS exams at Gleneagles.
Other outdoor activities include exhilarating off-roading courses with both 4×4 Land Rovers and All-Terrain vehicles, spectacular opportunities for Wildlife Photography and the winding rivers are perfect for some laid back fishing. Finally, closer to the hotel, there is also Falconry classes that bring the ancient sport to life for a new age.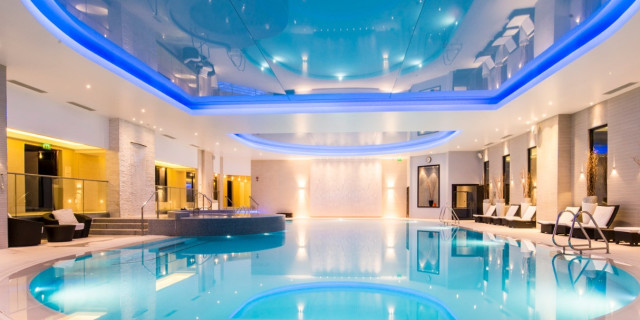 If outdoor activities, other than golf, aren't your thing then you should consider taking advantage of The Spa by ESPA. This luxury, award-winning spa offers Ayurvedic massages, Orient-inspired reflexology, natural facials and hydro-therapies to cleanse the body. The spa also offers a holistic range of therapies to boost your body and mind, as well as a large range of massages to provide deep, indulgent relaxation. To add, there is also a hair salon and a nail bar, which would be perfect for your other half if they don't play golf.
If you want to keep your heart rate high instead of relaxing in the spa then there is the opportunity to take advantage of the indoor tennis facility. This features four acrylic surfaced courts with the option to make the most of the available professional coaching.
Also available to guests are several fitness classes including: Zumba, Running Club, Aquafit, Pilates, Body conditioning, Spinning, Body Attack, Body Pump, Yoga, Core conditioning, Boxercise, Tai Chi, Outdoor fitness, Abs blast, Dance aerobics, Circuits and Physio led Pilates. There are also numerous walking, running and cycling routes to explore.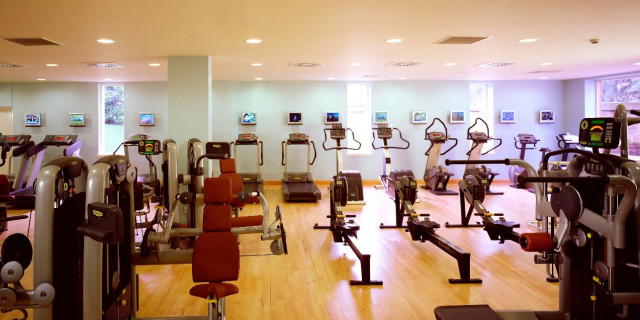 How to get there?
If travelling by train is your desire mode of transport then you're in luck. Gleneagles has its own station less than two minutes from the hotel and you can take advantage of the complimentary transfers if you let the hotel know what time you are arriving.
Both Edinburgh and Glasgow airports are less than 50 miles, or an hour's drive away from Gleneagles if you wish to fly. Arrangements can also be made to land helicopters at the hotel.
There are numerous routes you can take by car, with most heading via the M6, however this can take several hours depending on where in the UK you are travelling.
For more information on Staying and playing at Gleneagles, please – Click here