TRAVEL
A Guide to Golf in Ireland
This article first appeared on Golfshake.com in Jul 2016.
Ireland is the home of some of the world's best golfers including Rory McIlroy, Padraig Harrington and Darren Clarke to name but a few, as well as some of the finest golf courses you could ever play. On top of this, you will be able to sense the rich history that follows Irish golf with the sport undoubtedly dating back way beyond the nineteenth century.
Ireland is perfect for those who love their golf, but also like their history, architecture, walks and most importantly their
pubs. There are records of a match being played on the heathland of Curragh in 1852, although the club wasn't actually founded until 1883. Although the weather may not be perfect all year round, the wind and rain both add to the classic test of Irish golf.
Although relatively small, Ireland has many destinations and golf courses to choose from so to make things easier for you, we've picked out the best from each region of the country.
Central/East Ireland
If you are staying in central/eastern Ireland then you will more than likely find yourself in the capital city of Dublin at some point. There's so much to do when you're not walking some of the finest links courses the region has to offer, such as taking advantage of the stunning coastline just minutes from the city center. If you head north to Howth, you will find there's a walk for every fitness level. As you might expect in this small fishing town, seafood takes center stage so you must make sure you try a seafood platter at Deep on the pier.
Alternatively you can head south to Dalkey, which is the home to Bono, The Edge, Enya and Van Morrison. In addition to that, this beautiful spot has a rich history with two Norman castles and a 10th century church. Finally, when staying in Dublin, it would be rude not to take advantage of the infamous nightlife. Dublin has everything from heaving bars and clubs to quaint old-style pubs.
---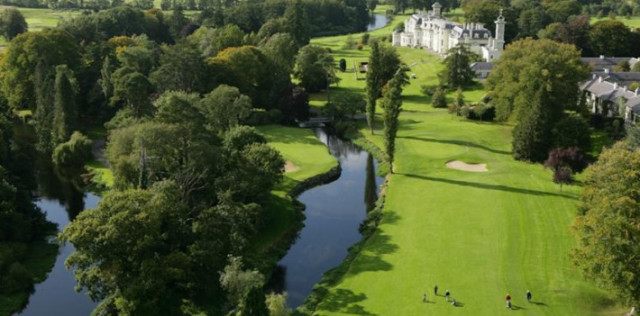 The K Club
---
The K Club in County Kildare is arguably one of the most famous golf resorts in Ireland as the Palmer Ryder Cup Course hosted the 2006 Ryder Cup as well as 11 European Opens and most recently the 2016 Dubai Duty Free Irish Open hosted by the Rory McIlroy. To add to the Palmer Ryder Cup Course, there is the Smurfit course, which is an inland links course and offers a completely different test of golf.
The hotel is a long-standing member of a Preferred Hotels & Resorts and offers the very best of pampering, leisure and golf facilities, all within a 30-minute drive of Dublin. This mature estate that covers 550 acres was Ireland's first AA Five Red Star Property and to this day delivers the very highest levels of service and standards in terms of food and beverage offerings, golf, leisure and spa treatments.
Also in County Kildare is Carton House, which prides itself on mixing cosmopolitan chic with contemporary cool to offer a luxury 4-star hotel. The hotel itself is a beautifully restored historic mansion located just twenty minutes from Dublin on a 1,100-acre private parkland estate.
Caron House has two golf courses to choose from and both were designed by world famous names. The O'Meara Course was designed by two-time major winner Mark O'Meara and is a classic parkland experience which meanders through acres of ancient woodland and along the banks of the River Rye. The Montgomerie Course was designed by seven time European Order of merit winner Colin Montgomerie and sees golfers take on a a 7,300-yard links style test. The fact this course has hosted the 2005, 2006, and 2013 Irish Opens and the 2010 Irish Seniors Open shows just how good it is.
---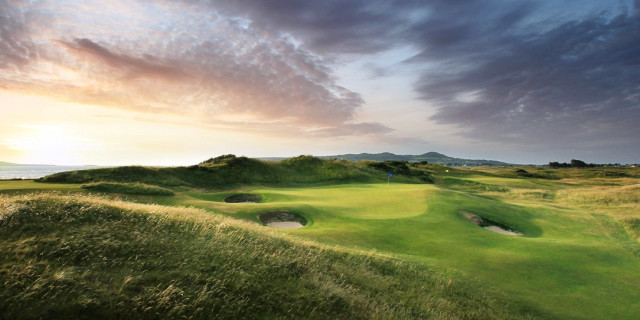 Portmarnock Golf Club (image credit Porthmarnock Golf Club Website)
---
If you happen to be staying in Dublin, then Portmarnock Golf Club may be of interest to you. This golf club sits on a narrow tongue of shallow duneland and as a measure of its enduring quality; it remains one of the most respected venues in world golf. If that doesn't tickle your fancy, then you should definitely consider The Island Golf Club as it not only offers a fantastic links challenge, but it is also filled with history. It was in fact one of the first twelve golf clubs to be founded in Ireland and is the third oldest in Dublin. Even if you do not have the best of rounds, you certainly will be able to enjoy the rich history of the club.
The Knightsbrook Hotel, Spa and Golf Resort in County Meath offers the very epitome of luxury Irish accommodation with 131 contemporary executive-style bedrooms, including 12 suites, to choose from. As an alternative to the Meath hotel, there are also luxurious courtyard houses set in the same picturesque surroundings as the hotel for those independently-guests. The 18-hole championship golf course's challenging and creative design by former Ryder Cup Legend Christy O'Connor Jnr offers a stern test of golf. The course also enjoys stunning views over undulated fairways, testing greens and demanding water features.
---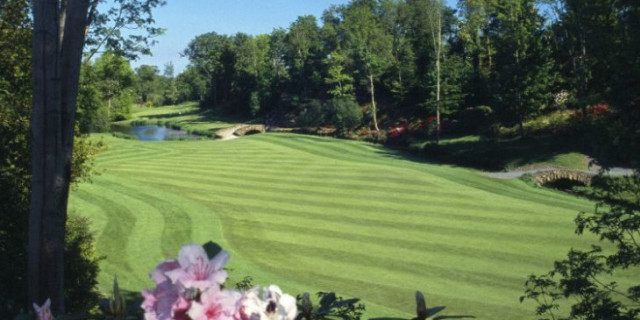 Golf at Druids Glen
---
Finally, another stand out resort that you should consider taking advantage of is the five-star Druids Glen Hotel & Golf Resort located in County Wicklow. At this resort nature and luxury meet to create a memorable getaway. The resort is nestled in 400 acres of countryside between the Wicklow Mountains and the Irish Sea and offers luxurious accommodation. There are two championship courses to choose from at Druids Glen and you won't be disappointed with either of them. The Druids Glen Course is famous for hosting the Irish Open on four occasions, along with the prestigious Seve Trophy. Druids Heath once hosted the Irish PGA Championship and is know as "nature's gift to golf" as golfers can absorb the rare heathland course in its breath-taking setting with views over the Irish Sea.
North West Ireland
The North West of Ireland has a lot to offer tourists, whether it be an action packed holiday or a leisurely one, the counties including Cavan, Donegal, Leitrim, Monaghan, Mayo, Roscommon and Sligo offer it all. You are sure to experience a warm welcome in an area with a strong sense of Irish heritage and culture, as you discover some of the least explored parts of the country.
The Rosapenna Hotel & Golf Resort in County Donegal is one of the stand out destinations in the North West of Ireland. This resort is set in 800 acres of peaceful grounds and looks out over the Atlantic Ocean and across the bays of Sheephaven and Mulroy. You'll definitely have a good nights sleep in this luxurious 4-star hotel. This resort also features two championship links courses, the Old Tom Morris links and the Sandy Hills course. The Old Tom Morris links was ranked the 3rd best course in the British Isles behind St Andrews and Royal County Down and often saw great golfers like Harry Vardon, James Braid and Tom Ball holiday there.
---
Rosapenna Golf Club
---
Another club to consider if you're staying in County Donegal is Ballyliffin Golf Club. This golf club is home to two outstanding, contrasting links courses – The Old Links and the new Glashedy Links. Both courses offer expansive panoramic views of countryside, coastline and ocean that will not easily be forgotten.
If you happen to be staying in County Sligo, then you should visit Enniscrone Golf Club. Located on the scenic West Coast of Ireland, the Dunes course couldn't be more aptly named as it's known for having some of the largest dunes in Ireland. The 7,033-yard, par-73, championship links course has regularly been a venue for National and Golfing Union of Ireland's top amateur events.
An alternative option in County Sligo is The County Sligo Golf Club at Rosses Point. There are two courses at this club – the Championship course and the nine hole Bomore course. The Championship course was designed by the legendary Harry Colt and is home to the famous West of Ireland Open amateur championship as well as previously hosting the Home Internationals, the Irish Close and Irish Professional Matchplay Championship.
---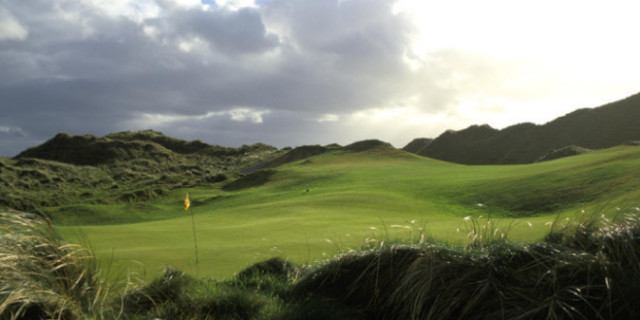 Enniscrone Golf Club
---
Carne Golf Links located in North Mayo lies in magnificent unspoiled sand dunes and overlooks Blacksod Bay and the Atlantic Ocean. Situated near the town of Belmullet, Carne Golf Links was the last links course to be designed by the late Eddie Hackett and is believed to be his greatest challenge by those who have played it. An additional nine holes opened in 2013 to add to the choice and challenge of Carne Golf Links.
South West Ireland
The South West of Ireland offers an attractive combination of sea and mountain scenery as well as lively small towns and villages. Life is arguably taken at a slower pace in this part of the country and old-fashioned courtesies live on. For example, if you find yourself driving down a smaller, back road and you see someone wave at you don't be surprised. It is still tradition for the driver to salute the driver of the oncoming car.
For those looking for a tough test of golf in idyllic location then you should definitely consider the Waterville Golf Links in County Kerry. This links plays on a promontory surrounded by the sea. It's stunning, remote location offers views of the Macgillycuddy's Reeks mountain range to the northeast and Ballinskelligs Bay and the Atlantic Ocean to the southwest. There are few courses that can boast such a fine collection of unique and great golf holes. Aside from the Waterville House's comfort and charm, the four star residence has 12 bedrooms and a private Fazio designed practice facility where guests enjoy preferential tee times and access to fishing the famous Butler's Pool.
---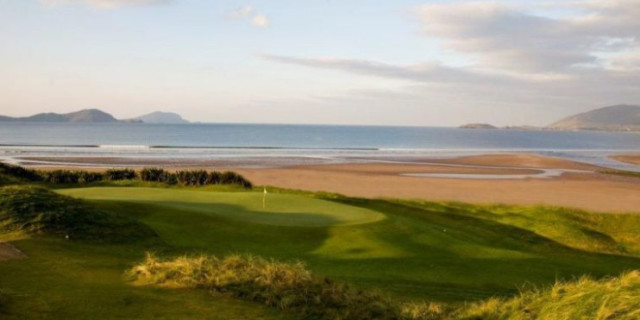 Waterville Golf Club
---
Also in County Kerry is Tralee Golf Club, which is described as Arnold Palmer's Jewel as he designed what is also widely acclaimed as one of the finest links courses in the world. Each hole possesses its own bit of history such as 16 and 17. The beach behind the 16th green and to the right of the 17th hole was where many ships ran aground, including one vessel from the Spanish Armada in 1588. An hour south of Tralee Golf Club sits Dooks Golf Links where golf has been played since 1889, making it one of the oldest Golf Links in Ireland. This course is perfect for the golfer who is seeking a beautiful and tranquil environment to enjoy a great game of golf.
Another set of courses to take advantage of if staying in County Kerry are those located at Killarney Golf & Fishing Club. The Killeen course is the jewel in the crown of the three championship courses at Killarney Golf & Fishing Club and played host to the Irish Open in 2010 and 2011. The Mahony's Point course measures at 6,800 yards and is ideally located to take advantage of the surrounding countryside and spectacular lake views. The final course, Lackabane, is currently under re-development but was opened for play in 1999 and offers a test of parkland golf.
If you happen to find yourself in County Cork then the world-class course at the Old Head Golf Links is a must. The course, designed by John and Patrick O'Connor is one of the most recognized and sought after golf experiences in the world and it sits on the South West Coast of Ireland. The course is built on a 220-acre diamond of promontory land, jutting out over two miles into the Atlantic Ocean. The promontory is almost an island with numerous caves running beneath your feet as you play this outstanding course.
---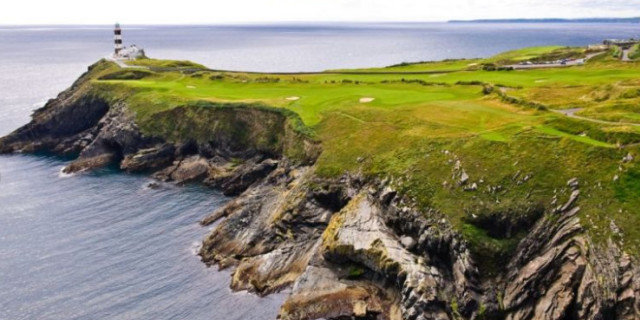 Old Head Golf Links
---
Also in County Cork is the Fota Island Golf Resort and has plenty to offer such as exceptional stay & play deals. The championship Deerpark course at Fota Island Golf Club hosted the 2001, 2002 and 2014 Irish Open and offers a golfing experience like no other in the world, never mind Cork. The Belvelly and Barryscourt courses also offer a stern but enjoyable test of golf. It'll be hard not to have a good night's sleep at the Fota Island Golf Resort thanks to its natural environment; you even have the choice of a stylish hotel room or a comfy, well-equipped lodge.
Northern Ireland
Northern Ireland is full of history, culture and heritage. When you're not on one of the outstanding golf courses you can take in the unique stories of landmarks such as the Giant's Causeway and the Walled City of Derry. From Saint Patrick to the birthplace of the Titanic, there is so much to explore and learn about in Northern Ireland.
The Royal County Down Golf Club, as you have probably guessed from the name, is situated in County Down and is home to two outstanding golf courses. The Championship Links is located in one of the world's most naturally beautiful links settings in the Murlough Nature Reserve. When you're not being distracted by the magnificent backdrop of the Mountains of Mourne, you must remember that this course tests the classic skills needed on a links course such as the bump and run. The Annesley Links course shares the same magnificent setting as the Championship links and although much shorter, it still offers a brilliant test of golf.
---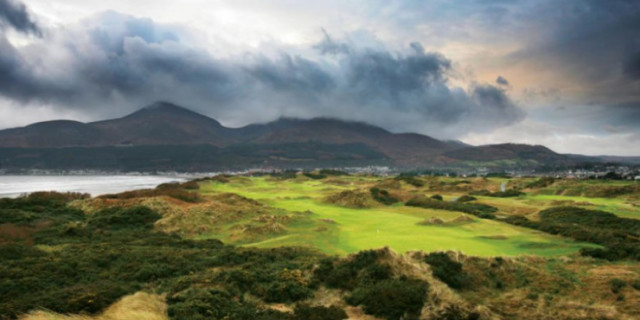 Royal County Down Golf Club
---
Also located in County Down is Ardglass Golf Club, which is well know for extending a warm welcome to its visitors who come from all over the world. This 18-hole course is just 50 minutes by car from Belfast and sits on the north-eastern coast of Ireland with stunning views and several unique holes. The course really does hug the coastline, with no fewer than eight holes where the Irish Sea coastline comes into play and is also visible from every hole. Ardglass really is a course to savor with several outstanding holes.
The majority of the capital city of Belfast sits in County Antrim but if you travel 60 miles north of the capital you will find a well-recognized golf club, Royal Portrush. This exquisite golf club is home to one of the best and most challenging links courses in the world, the Dunluce Links, and the hidden gem that is the Valley Links. Royal Portrush is also the only club in Ireland to have hosted The Open Championship. The Dunluce Links is a masterpiece of golf course architecture with the unimaginable rough and testing greens, combined with the unpredictable weather of the roaring North Atlantic offering an admirable test. As the name of the Valley Links suggests, the course is situated between the huge sand hills and also offers an unforgettable test of golf.
Ballycastle Golf Club also lies in County Antrim and offers a unique golfing challenge as it covers both parkland and links holes. Rivers Margy and Carey flank the first five holes with the ruins of the 12th century Bon-a-Margy abbey providing a historical out of bounds. From the 6th hole onwards you are presented with some outstanding links holes with impressive views of the famous North Antrim Coastline, the Mull of Kintyre in Scotland and the hills of Donegal.
---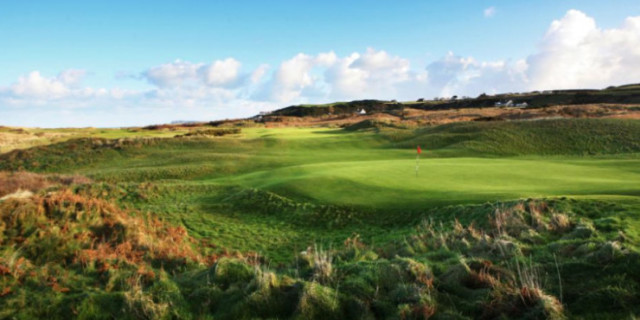 Royal Portrush Golf Club
---
Finally, if you find yourself located in County Londonderry then you should definitely test your golfing skills at Portstewart Golf Club. The club was founded in 1894 but now offers three exceptional tests of golf. The Strand course is a true championship links course and is very much the jewel in Portstewart's crown. The Riverside course is considered a perfect day out for the society golfer and features nine new holes running down the to the river. Lastly, the Old Course is a par 64 course and runs along the rocky shore east of Portstewart where the Club was founded. These three courses certainly offer something for every standard of golfer.
How to get there?
Both Belfast international airport and Dublin airport are served by flights from UK airports and don't cost an awful lot of money. Alternatively, you can catch the ferry across the Irish Sea from several ports along the west coast of England and as far north as Stranraer. Most train companies include the price of the ferry journey in their prices.
One thing is for sure, Ireland has a plethora of top golf courses to choose from and it is no wonder people flock from all over the world to try their hand on these courses. The friendly nature of the Irish will make you feel welcome from the moment you arrive in this country filled with a rich history and culture.