TRAVEL
More Reasons to Visit Las Vegas for Your Next Golf Trip
We recently explored the golf facilities at Las Vegas, highlighting six of the highest standard that reside within the Nevada state.
Due to its popularity, there are plenty more complexes that deserve special mention and all travelling golfers should consider visiting them during their next trip to Sin City.
---
Revere Golf Club
Although not quite positioned in Las Vegas, Revere Golf Club lies in Henderson, a short drive from the main strip. There are two 18-hole loops on-site, Lexington and Concord. The former is a fantastic experience as it is constantly maintained for you to produce your best golf. It can best be described as a target golf course so you should expect to go low – providing you are puring it that day. The Concord is the easier of the two and it can be regarded as forgiven off the tee, as the fairways are wider and the course generally features less bunkering. The true challenge lies in the vastly undulating greens; if you're looking for one important part of your game to be firing around the Concord, it's always going to be the flat stick.
Cascata Golf Club
Cascata is unique, as it does not feature a perimeter of real estate lining the golf course, which has become a common theme around more reputable golf courses throughout the country. Rees Jones was employed as course architect and it resides just south of Las Vegas, where a rich desert backdrop accompanies the perfect round of golf. The track features ravines, ridges and canyons, all blending to create a memorable experience of golf done right.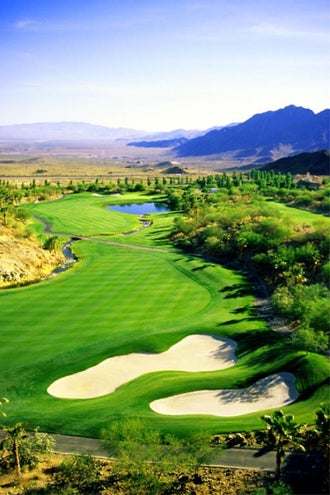 Aliante Golf Club
Aliante was open for public play in 2003 but since its establishment, it has received plaudits from Vegas Golfer Magazine, labeling it 'Best New Course in Las Vegas'. It is accessed easily, a 30-minute car journey from the strip but you would think you've been driving for hours with the wonderful environment that awaits. Gary Panks designed the loop and its versatility is what attracts visitors, where you'll experience moments of pressure and opportunities to score well – often a chance to redeem previous mishaps.
Las Vegas National
Many of the golf courses have been built within the last 30 years in Las Vegas, but not Las Vegas National: a giant character who has silently slept in the Nevada desert since 1961. What's fascinating to know is that it's a parkland course, a drastic contrast to the typical desert themed courses found in the state. This is a location where striping the ball as hard and fast as you wish can commonly result in disappointment. You need to plot your way around this iconic venue, choosing when to attack and when to deploy a more sensible approach. This was the venue for Tiger Woods' inaugural PGA Tour victory, so there's that too…
The Legacy Golf Club
Located in the Nevada countryside lies The Legacy Golf Club, a superb design by Arthur Hills that measures over 7,200 yards from the furthest tees. Immaculate maintenance is a highlight of a round at Legacy, as the perfect fairways and greens provide an unforgettable memory. With several water features and plenty of bunkering, the secret to scoring well is keeping your ball in play at all times, as any lapse in concentration can be the difference between agony and ecstasy.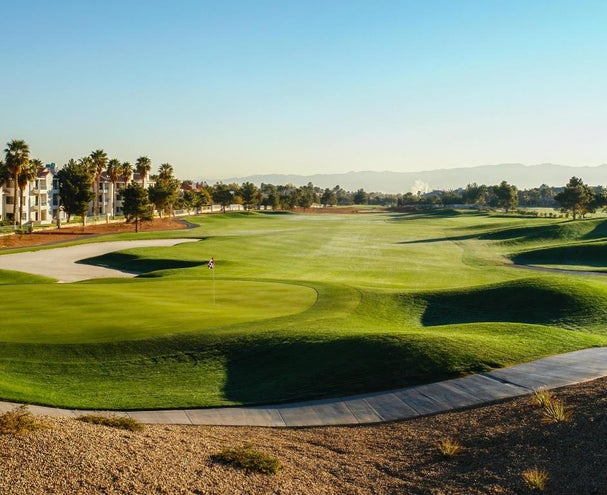 Desert Pines Golf Club
Desert Pines Golf Club initially opened in 1997 but it has since received sizable renovation, where the majority of the greens have been altered. The golf course is beautiful from start to finish, so it should come as no surprise to understand that Pete Dye was employed as designer. The difficulty levels are not straightforward; wide, open fairways encourage increased ball speeds but the deviating greens demand your full attention. A cool feature about the club is the 'beat a pro' challenge: where you face off against an employee of the club in a closest to the pin format. Lose and you can say you had fun but win and you'll be issued credit to use in the pro shop – did someone say new driver?
Las Vegas Paiute Golf Resort
Concluding our second list of Las Vegas golf facilities is Paiute Golf Resort, located only 25 minutes from the strip. Due to the complex's size and popularity, there are three golf courses that reside on the premises – Snow Mountain, Sun Mountain and Wolf Course – all of which have been designed by the reputable Pete Dye. Each and every layout measures further than 7,000 yards from the tips and they all provide a hefty challenge of golf. Numerous tee markings exist on each route to encourage golfers of all abilities to trial the creative designs.
---
There is seven more reasons to visit Las Vegas for your next golf trip, you can access our previous look into the facilities at Las Vegas here.
Golfers continue to travel to Sin City on an annual basis and after significantly augmenting its golfing appeal over the last 30 years, Las Vegas shows no signs of stagnating their innovative vision.