TRAVEL
Las Vegas and Golf: The Perfect Partner
The sheer number of golf facilities in Las Vegas results in Sin City being the perfect location for your next golf trip.
With renowned venues such as Shadow Creek and TPC Las Vegas awaiting to be experienced, there are plenty world-class facilities within the district.
Below, we explore six incredible venues for you to visit – with more on the way.
---
Shadow Creek
Shadow Creek only opened in 1989 but when it did, it wasn't available for public play and as a consequence, became one of the most exclusive clubs throughout the nation. Since then, however, it has opened for public play and it is also the location where Tiger Woods and Phil Mickelson went head-to-head in 2018 for The Match. Tom Fazio collaborated with Andy Banfield to create this masterpiece, with stunning scenery dominating the desert landscape. Due to the environment surrounding the facility, Shadow Creek is full of life in an otherwise lifeless environment. It continues to remain one of, if not the, grandest experience of golf in Nevada.
Rio Secco Golf Club
Rio Secco resides south of Las Vegas and it opened in 1997 but has since been remastered, after Rees Jones was employed to bolster the play-ability of the course. The tight rolling fairways are a theme around Rio Secco, which places an emphasis on accuracy from the tee. Having noted this, Jones was actually tasked with making the loop more friendly to casual golfers, so if you have played here previous to 2017, you should find it a little more forgiven.
TPC Las Vegas
An absolute giant in Nevada, TPC Las Vegas is everything you could possibly wish from a golf course. Frequently ranked within the top 100 of North America courses, this monster measures a dash over 7,000 yards from the championship tees. The beautiful backdrop of Red Rock Canyon provides stunning scenery and the combination of desert golf and more traditional holes make the experience distinctive. Bobby Weed and Raymond Floyd designed this course in 1996 and the PGA Tour visit annually for the Shriner's Hospitals for Children Open tournament.
Westin Lake Las Vegas Resort & Spa
One of the leading resorts in Las Vegas, Westin Lake combines luxury, relaxation and pulsating golf effortlessly to create the ultimate experience. The complex's golf course is the only private design from Jack Nicklaus throughout the state and due to a healthy range of tee markings, every ability of golfer can enjoy this wonderful challenge. The route intentionally features wide fairways, which should encourage aggression off the tee and (hopefully) subsequent scoring opportunities.
SouthShore Country Club
SouthShore Country Club provides one of the most challenging experiences of golf in Las Vegas, demanding that the golfer can shape the ball both ways if they are looking to improve their chances of scoring. For this reason, profound golfers should fancy their chances of posting a respectable score around one of the hardest courses in the state. For a track of such significance, it should come as little surprise that Jack Nicklaus is responsible for the design. Expect dramatic elevation changes, stupendous views and peerless greens.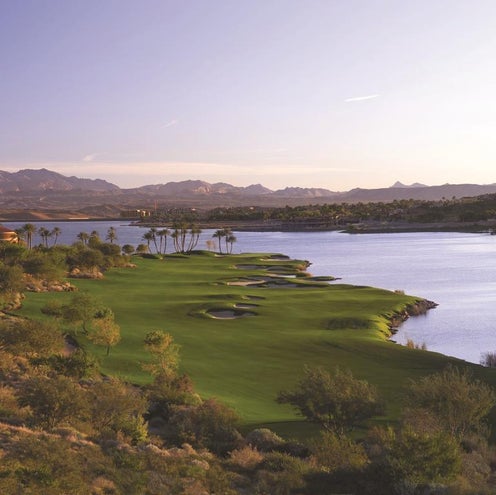 Reflection Bay
Reflection Bay only opened a year after TPC Las Vegas, but the reputation that both facilities have carved for themselves in such a short space of time is truly astonishing. Situated at Lake Las Vegas, Jack Nicklaus was also enlisted for the design of this route too. The experience features many bunkers, rolling fairways and undulating terrain to bolster its difficulty. The entirety of the layout is fantastic but a special mention to the two closing holes, where the expansive water features can easily ruin the earlier positive scoring.
Bali Hai Golf Club
Bali Hai Golf Club lies towards the bottom of the strip and there are more than 2,500 palm trees and other types of plants found on the premises. The golf course is of championship quality and the desert layout allows golfers to immerse themselves within their surroundings. The par-3 16th is among the favorite holes for travelling golfers as you'll be striking to an island green – just don't be distracted by the people watching from Cili Restaurant beside!
---
Las Vegas' renowned reputation of late night entertainment and plentiful activities helps elevate it beyond your typical golf trip.
Since the 1990s, a lot of money has been invested into the golfing facilities in Las Vegas and with several PGA Tour tournaments held here, it's growth into the golfing industry continues to flourish.
Read here for insight into the golf facilities at Palm Springs and Arizona's popular golfing hub, Scottsdale.