TRAVEL
Visit Scottsdale for the Ultimate Spring Golf Trip
With spring on the horizon, it's soon time to part ways with miserable weather and waterlogged golf courses as we prepare for relentless sunshine and optimal golfing conditions.
Scottsdale is a haven for golfers – best highlighted by the recent Waste Management Phoenix Open – and continues to attracts visitors every season.
Warm weather, excellent facilities and superb national links is what elevates this area of Arizona to one of the best golfing destinations.
---
TPC Scottsdale
The king of golf in Scottsdale, the attendees of the Waste Management Phoenix Open certainly know how to put on a show, with their eccentric celebrations bringing new fans to the sport. TPC Scottsdale is made up of 36 holes: Stadium and Champion Course. The former is the route the PGA Tour utilize and the incredible finish ensures drama until the very last putt. You won't experience the 20,000-seat grandstand that is erected during tournament week but will you attempt to drive the 17th? The Alternate course is a smoother approach to golf and it's particularly recommended for novices of the sport.
Troon North
Troon North is another venue with 36 holes; both are viable for an excellent experience of golf. The Pinnacle Course exudes natural beauty from all corners of the loop, dominated by mountain views and the desert that surrounds the facility. The Monument's reputation has been carved through its demand on the golfer's short game, who will need everything firing if they are contend with the true rolling greens and difficult bunkers that protect the putting surfaces so efficiently.

Raven Golf Club
Raven Golf Club is the first to feature with only 18 holes on-site, but don't let that fool you, an absolute masterpiece has been crafted by Gary Panks and David Graham, the co-designers of this loop. The main challenge at Raven are the multi-tiered greens and vast collection of bunkers, placing a premium on accuracy when approaching the greens. Raven might not have held a PGA Tour tournament, but collegiate competitions are held at this impressive course.
Ocotillo Golf Club
Ocotillo is made up of three loops of nine, with the visiting golfer choosing which two routes to combine for the full 18 experience. Water is a theme at Ocotillo, as 24 of the 27 holes contain some sort of water hazard – so accuracy is vitally important. A plethora of bunkers have been included for an extra element of defense and you're better off in the sand than the water!
Boulders Resort & Spa
Boulders Resort & Spa is a heavyweight facility within the Arizona area, as it's been awarded recognition from both Golf Digest and Travel and Leisure. There are two golf courses that reside on-site, South and North Course. The South is truly mesmerizing; stunning visuals and a hefty physical challenge unite to formulate a grand, golfing experience. The alternate experience, the aforementioned North, emulates its sibling in both scenery and difficulty. In terms of 36-hole complexes, there aren't many better in Arizona than Boulders Resort.
Grayhawk Golf Club
Another iconic golfing facility in Scottsdale, there should be no surprises as to why this area of America is frequented by golf fanatics. Both routes at Grayhawk Golf Club are held in high regard and whether you tackle the Raptor or the Talon, you are guaranteed golfing delight. The Raptor is a marvelous Tom Fazio design and measuring 7,151 yards from the furthest tees, ball-striking is essential if you are to survive the layout – let alone score well. The Talon, on the other hand, may be viewed as the inferior of the two, but tight fairways place a premium on accuracy. This is the golf club where Phil Mickelson worked relentlessly on his game when he studied at Arizona State University.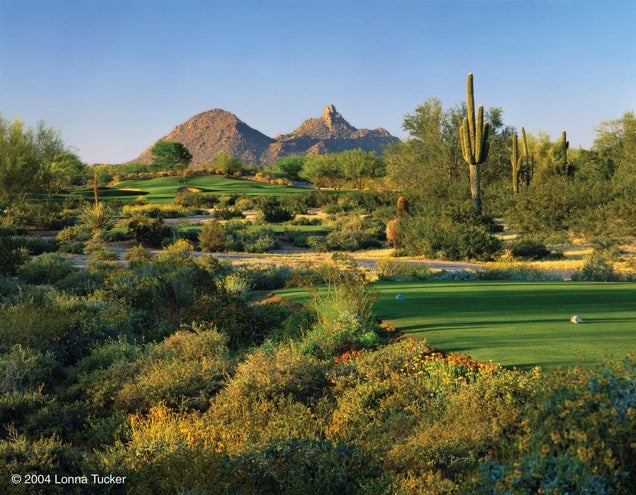 We-Ko-Pa Golf Club
We-Ko-Pa has attracted national interest for quite some time, and that's not solely due to the colorful name! Two 18 hole layouts reside on the premises but it originally operated as a one-course site. The Chollas Course quickly became one of the favorites in the state and its desert theme and excellent design has visitors rapidly returning. The Saguaro Course was opened for public play in 2006 and has since stolen the spotlight, highlighted by Golfweek's ranking as 'Number One Public Access Course in Arizona'.
Ak-Chin Southern Dunes Golf Club
Finishing this list of impressive Arizona golf facilities is Ak-Chin, the epitome of golfing in the state. It's vital you position yourself from the tee but the difficulty lies in the bunkers and their immense depth. Moreover, to crank the challenge up further, several multi-tiered greens are present throughout the course, meaning yardages will need to be accurate if you're hoping to avoid a three-putt or worse. With tee marking ranging from 5,100 to 7,500 yards, Ak-Chin is a golf course that can be enjoyed by everyone.
---
There's eight excellent facilities to visit if you're looking to book a golf trip to the state of Arizona this spring.
From the PGA Tour venue in TPC Scottsdale to the rugged landscape of Ak-Chin, golfing and Scottsdale continue its marvelous and progressive relationship.