FEATURES
12 Tips for Golf Vacations
This article first appeared on Golfshake.com in Jan 2017
The excitement in the build to a golf vacation can often see golfers rushing in the booking process and then when it finally comes to departure, they find they have under-packed. Here are 12 golf vacation tips to help you get the most from your golfing trip.
Know where you want to go
Knowing where you want to go, and how long for, is essential to a successful golf trip. Whether it be a weekend at the home of golf, St Andrews, or a week in the glorious Algarve, if every member of your golf trip wants to visit a certain location, go there.
You're guaranteed to have a great time if you're playing at a course or resort that everyone is happy with. To add, make sure you do your research on courses to play and don't let one bad review of a course change your mind. Even if one course ends up being poor, you will most likely still have great time with your friends or family.
Use weight allowances/hand luggage
You can often avoid the extra charge of packing a suitcase by using weight allowances cleverly. Most airlines have a 20kg allowance on golf bags, but with the average golf bag only weighing 13kg you should use the spare 7kg to store clothes and shoes.  If you use a pencil bag then you may leave even more room to store items.
By moving stuff into your golf travel bag, it may eradicate the need for a suitcase, which often have high costs. You can put clothes in your hand luggage, however make sure you check the airlines' hand luggage allowance first.
Take clothes you can wear on and off the course
A lot of golf clothing nowadays is acceptable to wear both on and off the course, and therefore allows you to pack just that little bit lighter. Some people like to wear the golf top they are going to wear the next day on the course, to their evening meal. This way, it almost halves what you have to pack in terms of clothes.
Bubble wrap
Away from the golf side of things, it can often be handy to pack some bubble wrap. Why, I hear you ask? Well, if you are heading abroad, you may be inclined to bring back some local wine. By packing bubble wrap, you pad your purchase and it allows you to get your wine home safely.
Double-check the weather forecast
This is particularly important if you are planning a golf trip in the UK. We all know that the weather in the UK isn't brilliant, so checking the weather forecast is a must beforehand. It could be that you need to make sure to pack waterproof clothing, umbrellas and a spare pair of socks for after your round. Alternatively, if you're lucky enough, it may be that you need to pack some sun cream.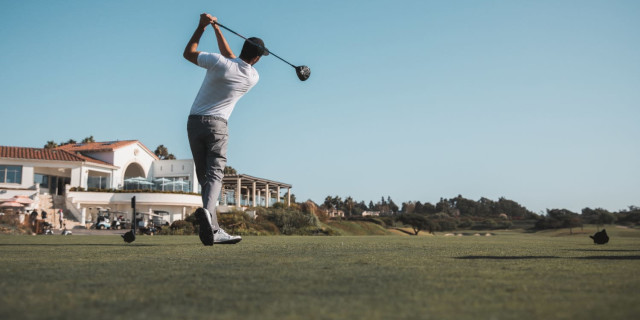 Pick the best flights
This sounds pretty straightforward doesn't it? I can hear you now: "of course I'm going to pick the best flights." But what I mean by this, is don't necessarily book to play golf on the same day that you fly home. For many it can be extremely stressful, as the main thing you think about during your round is arriving on time for your flight. More so if you've got a group of Jason Day's in front of you.
It may cost you slightly more for that extra night, but it will 100% be a much more comfortable. Depending on what time you fly on your first day, it may not be a bad idea to book a round that day if you feel up to it. Most people however, prefer to explore the town/city where their hotel is based.
Don't worry about paying extra
This follows on nicely from picking the best flights. As mentioned before, staying that extra night may add to the cost but it will make you a lot more comfortable. Also, you must realize that golf holidays are relatively expensive compared to your normal getaway.
If you want to play the better courses, you have to be willing to pay that little bit more. However, you are almost guaranteed to have a great experience if you do pay to play the better courses. These courses are kept in great condition for the most part of the year and the service you will receive will undoubtedly be exceptional.
Paracetamol
Paracetamol is a key component on any golf trip for several reasons. First of all, if you are playing several rounds of golf in the week, your body may not be used to so much walking and playing so many shots. This will most likely lead to aches and pains. Also, if you are playing abroad in a hot country, you may get dehydrated and various medicines and drugs will help hydrate you again.
Also, for those who are integrating both golf and nightlife, paracetamol will be your savior. After a night out on the town, it may be a good idea to have some paracetamol on hand to help cure that morning hangover.
Go through a golf travel company
Going through a golf travel company, such as Golfbreaks.com, will make the booking process so much easier. These companies often have great deals at the best golf courses and hotels and can even sort things such as flights and transfers. All in all, it is so much easier to have these companies sort your holiday for you and, you can be sure they will accommodate your every need.
Try and avoid school holidays
Avoiding school holidays will help reduce the cost of your golfing vacation. It is well known that airlines and hotels up their prices during the school holidays, as this is the only time families can get away.
By booking outside of these times it will be cheaper and you will most likely find yourself playing millionaires golf. What more could you want? Playing golf, with your mates, in the glorious sunshine and the course to yourself.
Golf shoes that can be worn off the course
Now, for me, golf shoes that can be worn off the course aren't for me. I'm no style guru, but for me they just don't work. However, if this is your sort of thing then you can help save room, and valuable weight, in your suitcase. Various top brands now make casual golf shoes, so don't be surprised if you see someone wearing them in the bars and clubs after a round.
Pack enough golf essentials
This one is key. Make sure you pack enough golfing essentials before you leave for your golfing getaway. One thing you must make sure you have enough of is golf balls, especially as many resort courses tend to feature water. Tees should also be at the top of your shopping list. There's nothing worse than someone asking for tees from the word go.
Hopefully, these tips will help you have a more enjoyable golfing holiday and let us know in the comments if you think we have missed anything.