FEATURES
How Far Should You Hit Your Driver?
This article first appeared at Golfshake.com in Feb 2020
How far golfers hit the ball has become a hot topic of discussion across the game since the R&A and USGA published their joint Distance Insights Project Report, which concluded that: "Longer distances, longer courses, playing from longer tees and longer times to play are taking golf in the wrong direction. Golf will best thrive over the next decades and beyond if this continuing cycle of ever-increasing hitting distances and golf course lengths is brought to an end."
Raising the possibility of a change to equipment rules and adjustments to currently deployed regulations, the lines have been drawn in a contentious debate that will encompass the governing bodies, manufacturers and professional tours.
Potentially leading to a divide between the elite and regular games with regards to club and ball specifications – so-called bifurcation – the spotlight has been placed on the differences between that specific 0.1% of players you see competing on TV, and the vast majority of everyday, regular golfers who are the lifeblood of the sport. What we have now is a consultation period – there are yet to be any definitive answers – but there is a likely impact for both of these groups.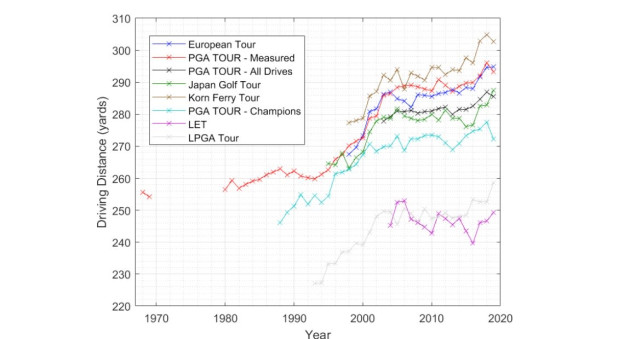 The Report found that in 1995 the top 20 biggest hitters on the top men's tours averaged 278 yards from the tee. By last year that had increased to an astonishing 310 yards. And that is just an average figure. There are many players whose long driving stretches courses well beyond their limits, which has long been a concern of those who wish to preserve the game and its historic venues, with worries also touching on environmental and sustainable issues of layouts that cover vast acreage.
Technology, the large headed drivers and modern golf ball, are a huge part of the story, but there is also the reality of improved athleticism, and deeper knowledge of the mechanics of the swing through the use of data from TrackMan, helping to maximize energy transfer and with it distance. The Report's findings show a direct correlation between faster clubhead speed and greater yardages.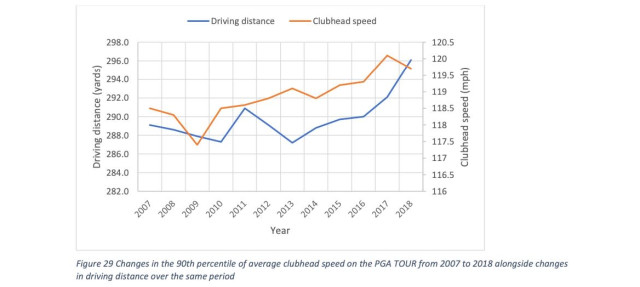 There is no doubt that tour players are hitting the ball further than before – and that trend is only going in an upwards direction under the current situation – but has this dramatic growth also been translated into the amateur game?
Intriguingly, following a noted increase around the turn of the century, the R&A has reported that in the two decades since, distance has largely stalled, with only marginal improvements for some handicap categories, and even a decline in others.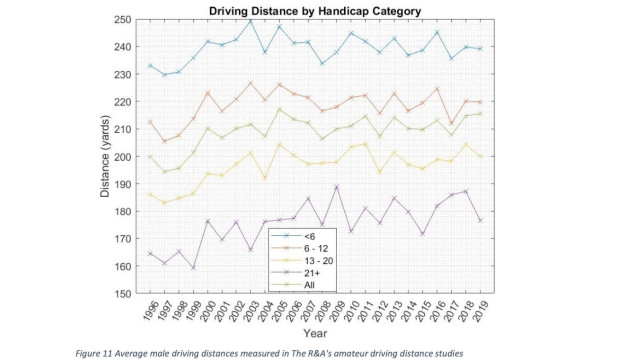 For whatever reason, average golfers are not benefiting from modern technology, whereas tour professionals are. That could suggest the conclusion that only the refined techniques and fitness of the world's best will take full advantage of the innovations unveiled by manufacturers through the years, whereas those of us who aren't athletes and don't swing the club 120 mph won't gain much.
How Far Should You Hit Your Driver?
Polling 3,000 golfers, our calculations largely back up those findings of the R&A.
Compare yourself to these results for male golfers.
Handicaps
HCP 0-5 – 251 Yards
HCP 6-10 – 242
HCP 11-14 -236
HCP 15-20 – 225
HCP 21-28 – 212
HCP 28+ – 199
Age
Age 18-34 – 251 Yards
Age 35-44 – 239
Age 45-54 – 235
Age 55-64 – 222
Age 64+ – 204
Main Demographic – Age Group 35 – 54
HCP 0-5 – 263 Yards
HCP 6-10 – 249
HCP 11-14 -245
HCP 15-20 – 235
HCP 21-28 – 225
HCP 28+ – 212
Data shared by Arccos Golf – the Performance Tracking System has also noted a ceiling in amateur distance.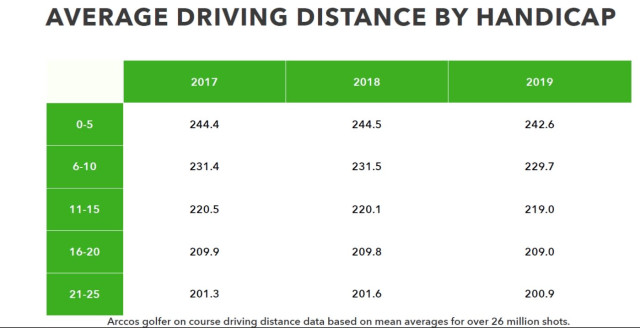 Through these various results, you can now see how you match up to other golfers across a range of handicaps.
However, long-hitting isn't consigned to just driving, we also surveyed golfers to learn more about how far they hit their irons when playing.
Male Average 7 Iron Distance – 145 Yards
HCP 0-5 – 159
HCP 6-10 – 153
HCP 11-14 -150
HCP 15-20 – 146
HCP 21-28 – 136
HCP 28+ – 129
Age
Age 18-34 – 160
Age 35-44 – 154
Age 45-54 – 149
Age 55-64 – 143
Age 64+ – 135
Data has shown that the divide between the professional and amateur game has never been greater. The months and years ahead will see this debate become something more constructive, but it's clear that change is coming – even if the road may be a bumpy and uncertain one.