FEATURES
GEAR
What Sort of Golf Ball Should You be Using?
This article first appeared on Golfshake.com in Oct 2013.
In golf, nothing inspires brand loyalty quite like the golf ball we use. For a very large percentage, the ball of choice is either the Titleist ProV1 or ProV1 X. Why? Because those are the balls used by the top tour professionals and because Titleist spend a fortune advertising their ball.
Consider this – the average tour pro swings a golf club at 115mph, while the likes of Alvaro Quiros, Tiger Woods, Bubba Watson and Nicolas Colsaerts generate clubhead speed approaching 130mph.
And what about the average club golfer? If you are single-figure handicap golfer, your swing speed will probably be just over 100mph, but for the vast majority of us, it is far more likely to be between 85 and 90mph.
The above are cold hard facts.
So what sort of ball should you be using? I wanted to find out, so went along to Ipswich Golf Club for a ball fitting session with Danny Osborne, of Bridgestone Golf. With me was Richard Hope, a 16-handicapper with whom I regularly play, and whom I thought would benefit from a ball fitting session.
Danny asked Richard a few questions about his game and wanted to know what golf ball he normally used. His ball of choice is the Srixon Green.
"OK, first of all I would like to see you hit some shots with your normal ball," said Danny, who had some Srixon Green with him, along with just about every other make and model known to man (and woman).
Bridgestone use a neat piece of kit called the Science Eye Launch Monitor. It's essentially a launch monitor and it records clubhead speed, distance, ball flight, shot shape, trajectory, rpm – everything that Danny needs to identify what happens when the player strikes the ball.
Bridgestone do all their tests by asking the player to strike the ball with a driver as they say it will tell them everything they need to know and highlights weaknesses in compression of the golf ball.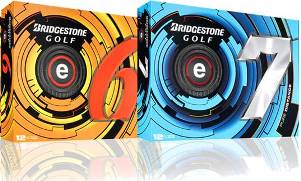 After looking at the statistics following Richard's strikes with the Srixon, Danny identified the Bridgestone e6 as the ideal ball for him. He then struck several shots with it. It is a soft-feel multi-layer seamless ball. Although his swing speed was slower, according to the machine, the ball traveled at least as far as his Srixon, but the most intriguing thing was the ball flight, which was much higher than before.
He recommended the Bridgestone Tour B330 RXS for me – a ball that is designed for players with a swing speed that is below 105mph  who still want Tour short-game control, with a urethane cover. Danny also blew what I believe may be a common fallacy – namely that the Pinnacle golf ball should NOT be used as a winter ball unless you are a member of the plus-100mph club. It is a high compression ball and is not suitable for the average golfer.
I am not going to blind you with a science that I don't fully understand, but one of the major reasons that a high handicapper should not be using the ProV1 is that it is a high-compression ball that requires a certain amount of clubhead speed to get the most out of it with a driver. As highlighted in its 'Modern Golf Ball Report' published last year, Bridgestone often ask golfers who choose to play with a hard ball: 'What would you rather hit with your driver to gain distance – a snooker ball or a tennis ball?'
The Bridgestone e6 and Tour B330 RXS are low compression balls, and Richard and I both happily left our ball fitting. Before going any further, I feel that I have to point out that Danny, like so many of the other people I have met employed within the golf industry, is a real enthusiast. He is passionate about what he does and is a great advert for Bridgestone.
So now you want to know how we got on when we ambled out to the course and tried out our new golf balls.
If I hadn't seen it with my own eyes, I wouldn't have believed it. We were both struck by how long these balls remain in the air. And the way I was able to get stop on my wedges is something I have never experienced before with any brand of golf ball.
Let me conclude by telling you about something that happened at the sixth hole at our golf club – it is a par-3 that measures around 170 yards from the yellow tees. The green is guarded by bunkers on the right and left, with a gap between the two. Like most other courses, ours has enjoyed a great deal of sunshine this year and there is lots of roll on the fairways. Most players, myself and Richard included, have taken to using seven or eight irons, landing the ball short and letting it roll up to the flag. Richard took a seven iron, hit the ball and it soared into the sky, cleared the sand and landed on the green, stopping stone dead. We both looked at each other in stunned silence. Never before had he hit a shot quite like it.
I have always been convinced of the value of having clubs custom-fitted. I am now sold on ball fitting.
There is something else you may like to know – a dozen Bridgestone e6 golf balls will cost you about £25.99, while the Tour B330-RX retails at £44.99.
Let me assure you here and now that I am under no obligation to write a positive review of this or any other product. I do, however, seriously recommend that you give golf ball fitting some consideration. It could just change your game forever.